While the place of women in political, economic and social life is still subject to debate around the world, Ivory Coast seems to increase efforts, thanks to the involvement of the country's first lady, Dominique New Ouattara. It wants women to be recognized in the country and on the continent. Too often forgotten, their economic, political and social impact in Africa is no longer to prove.

In Ivorian public opinion, it is well known that women occupy a less recognized place than men in society. Judge: if they play a leading role in the agricultural sector (they occupy 55% of agricultural, fishing and livestock activities and 70% of the value-added in this area is provided by women), their income represents only 22% of men in this sector. Only one fifth...

Moreover, the average income of Ivorian women is 59% lower than that of men and they do not benefit from the fruits of their labor (production, transport, distribution), nor even from the power of control and management which should come back to them. . Disparities more than important that ended up alerting the head of state, Alassane Ouattara, including through his wife, Dominique Nouvian Ouattara.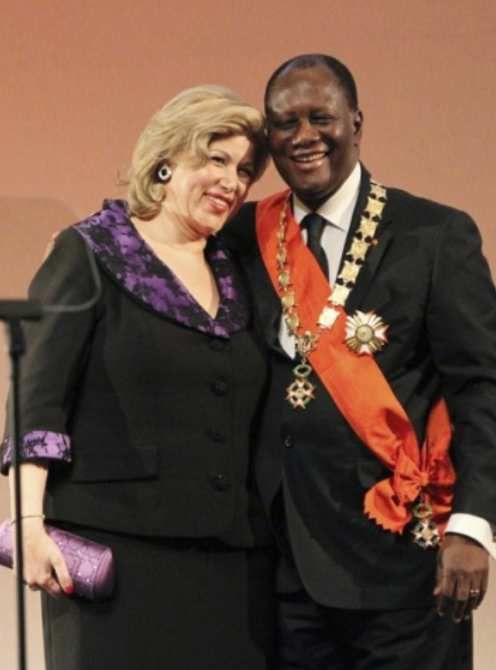 "The support of women in Côte d'Ivoire has never been lacking to President Alassane Ouattara. And know that our affection gives him the strength to manage our country with great wisdom." It is with these words that the First Lady began her speech in front of 2,000 women, mostly mothers, on May 26, on the occasion of Mother's Day in Treichville, in the southern district of Abidjan. .

And the wife of the head of state had not come empty-handed: kitchen equipment, hairdressing, sewing and various utensils, were distributed in a general jubilation. "You are role models for future generations of women in our country. I would like to pay tribute to each one of you, for your courage and your strength, and for the innumerable sacrifices you make on a daily basis", she continued before thanking the Ivorian women who are "examples to follow" and the soil the "maintenance and consolidation of peace" in Côte d'Ivoire.

It must be said that Dominique Nouvian Ouattara, nicknamed "Blanche Colombe" in the country, is particularly involved, in her own name, but also in that of its president and husband. In 1998, she created the Children of Africa Foundation, an association that, among other things, helped build a mother-child hospital in Bingerville. And in December 2012, it launched the Ivory Coast Women's Support Fund (FAFCI), whose vocation is to improve women's incomes and facilitate their financial independence.

And Côte d'Ivoire is not the only country in Africa to understand that its women were destined to play a key role in the country's development. This is evidenced by the holding of a forum in February 2016 in Paris, at the musée du Quai Branly, entitled "Women, the future of the African continent".

According to RFI Africa, partner of the forum, "more vulnerable to imbalances and violence, women, however are increasingly engaged in the economy and politics. They are also the continent's greatest chance for growth, health and stability. "

And the numbers speak for themselves: in sub-Saharan Africa, women produce 80% of food when they make up 70% of the continent's agricultural force. Moreover, as Le Monde points out, "it is thanks to African women that homes are supplied with water". In Malawi, a small country in southern Africa, "women spend more than 9 hours a week collecting water".
On the political level, African women are also very involved: "in Rwanda, they occupy 51 of the 80 seats of the National Assembly" when they represent only 26% in the Hexagon ... Moreover, the African continent can boast to have two women presidents, one in Mauritius and the other in Liberia.

As far as the economic sphere is concerned, women in Africa are also important: they are "owners of a third of the enterprises in Africa, and in Nigeria and Ghana there are more women entrepreneurs than of men ". Proof that African women are fit to play in the big leagues: "Two African women are in the ranking of Forbes billionaires 2015, the Angolan investor Isabel Dos Santos and the Nigerian Businesswoman Folorunhso Alakija ".
In Africa, women are a gold mine. Intended to play an increasingly important role, African women are increasingly recognized on the continent. And this in the political and economic as well as social sphere. This is particularly the case in Côte d'Ivoire where the First Lady is multiplying initiatives to promote their integration.